In May 2022, ABC News reported that 90% of employers have been finding it difficult to fill their open positions in the wake of the COVID-19 pandemic. On a positive note, the U.S. job market has sEmpltarted bouncing back from the coronavirus recession in an unexpectedly strong manner. However, the good news does not mean as much if you can't find people to fill the available job openings.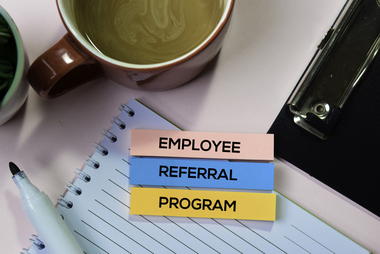 ABC News has also stated that the U.S. has two job openings for every unemployed individual. Small businesses in particular are struggling to get applications for open positions, let alone fill those positions. That said, one major way to help resolve the issue at hand is to implement an employee referral program.
What is an employee referral program?
According to the Society for Human Resource Management, "an employee referral program is a recruiting strategy in which employers encourage current employees, through rewards, to refer qualified candidates for jobs in their organizations."
Getting employee referrals can be as simple as verbally asking employees if they know anyone who might be a good fit for the company or any available positions with the company. If an employee responds with an affirmation that this is the case, then you can reach out to the person being referred and invite them to apply for the job.
However, as simple as this interaction sounds, it's important to formalize your referral process. Doing so will streamline the process while ensuring fairness and consistency across the board.
How effective are employee referrals?
A recent LinkedIn report has stated that employee referral is the way by which many people find a new job. Other statistics from various sources have shown the following:
Referred employees are four times more likely to be hired than are non-referred applicants.
Approximately 82% of employers say referrals are more effective than all other sources in terms of generating return on investment.
Referrals save employers over $7,500 per hire.
About 45% of employees hired after being referred to the company remain employed with said company for at least four years.
In many cases, the smaller the employer, the more often the jobs will be filled by way of referrals. In one study, employers with 100 employees or fewer filled 51% of their jobs through referrals. But for employers with between 100 and 500 employees, referrals accounted for only 26% of hires.
What are the different types of referral incentives?
Most referral incentives come in the form of bonuses:
Cash bonuses as a lump-sum payment.
Tiered bonuses, which are broken down into increments based on milestones.
Altruistic bonuses, which allow the recipients to donate all or part of the payment to a charity or nonprofit organization, typically of their choosing.
According to research, in 2019, the average cash bonus was $2,500. Bonuses for hard-to-fill positions may be even larger if the employee being referred performs well.
There are several other ways to provide referral incentives, and not all of them cost money. For example, you can offer a recognition incentive, such as sending an email blast that praises the person who provided your company with the referral. The head of the company can also verbally acknowledge that person at a company event. The options are seemingly endless.
Ultimately, when developing an employee referral program for your company, the HR team will need to coordinate with key departments — including legal, finance and payroll — to ensure a winning outcome for everyone involved.