As an employer, it's important to know what your competitors are planning in terms of benefits in the near future. You can use this information to make strategic recruitment and retention decisions. According to a 2022 Mercer report, 70% of large employers and 53% of small employers are planning employee benefit enhancements in the coming year. Below are some of the top trends to expect.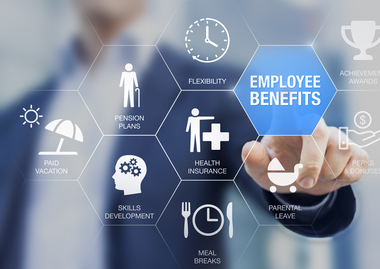 Health care affordability
Per the Mercer report, "Health care affordability is a top concern for many workers, in particular low-wage earners or those coping with a chronic medical condition." Therefore, many employers are seeking cost-effective health care solutions for their employees.
Considerations include:
A narrow/high performance network plan to help pay for better (health care) services.
Salary-based contributions, where lower-wage employees pay less than higher-wage employees.
Telemedicine and on-site care, which are typically less expensive than in-office care.
Free employee-only coverage, particularly among large employers.
Financial assistance for low-wage (hourly) employees
Some employers are planning or considering:
Cash rewards paid after a certain number of shifts worked.
More frequent paychecks, such as weekly instead of biweekly.
Payday loans.
Flexibility to boost work-life balance
Employers offer or plan to offer these enhancements:
The option to work from home frequently, but not always.
Flexible work schedules, such as four-day workweeks.
Paid time off to volunteer.
The option to work from home fully.
Employer-funded lifestyle accounts.
Unlimited PTO.
Other benefits to support work-life balance.
Family-friendly benefits
Employers offer or plan to grant the following:
Parental leave — paid parental leave, adoption leave, foster child leave, surrogacy leave, etc.
Family-building benefits — on-site lactation room, financial adoption assistance, fertility benefits, concierge fertility services, etc.
Child care assistance — child care referral/consultations, backup child care services, tutoring/educational support, etc.
Elder care assistance — caregiver referral/consultations, provider and facility search assistance, backup elder care services, etc.
Behavioral health care
In the coming months, employers plan to expand access to behavioral health care through:
Enhanced employee assistance program services.
Additional online resources, such as apps, articles and classes.
Manager training on identifying behavioral health issues and directing employees to resources.
Contracting with specialty vendors.
Top 4 perks employers offer or plan to offer in 2023:
Tuition reimbursement (75%).
Supplemental life/individual disability insurance (63%).
Identity protection/password programs (31%).
Stipend for setting up a home office (23%).
The MetLife 2022 Open Enrollment Survey is also worth a look.
Per MetLife, the top five benefits remote employees plan to elect in 2023 are:
Dental insurance (50%).
Vision insurance (44%).
Life insurance (42%).
Pretax health savings/flexible spending accounts (26%).
Financial planning/education workshops or tools (26%).
Note that the MetLife survey found that remote employees (55%) experience greater financial stress, compared to hybrid and on-site employees (46%).
Your next step? Speak with a benefits expert to make sure your company is competitive when seeking to recruit and hire the top employees.