Virtually every state requires employers to carry workers' compensation insurance — which is used to pay medical benefits, lost wages and rehabilitation costs to employees who suffer a work-related injury or illness. If an employee is killed because of a work-related injury or illness, then workers' compensation pays death benefits to the family of the deceased employee.
What about temporary employees?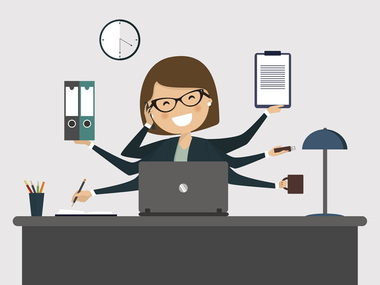 Temporary employees are usually hired to fill in for absent employees, such as those on disability leave — or to bridge staffing gaps, such as those during busy seasons. The work is short term in nature, with a specific end date.
To bring in temporary workers, employers normally go through a staffing or temporary agency. Theoretically, the staffing agency is considered the employer.
According to the legal website HG.org, although state workers' compensation laws vary, when it comes to temporary employees, "The general rule is that the staffing agency is responsible for maintaining this coverage."
Similarly, WorkplaceFairness.org says, "Temporary workers/leased employees are generally eligible to receive workers' compensation, usually through the temp agency/leasing firm by whom the worker is employed."
Depending on the state, the staffing agency may face penalties for not providing workers' compensation insurance.
However, this does not mean that the client company or employer cannot be sued by a temporary worker or that the employer cannot be held liable for the work-related injury.
According to the Society for Human Resource Management, if a temporary employee is hurt on the job, the client company "can be sued by the injured party under the company's general liability policy" since the individual was "working at the client's location under the client's direction."
Consequently, employers should seek legal advice on how to minimize liability. They should also ensure that the staffing agency's contract clearly outlines the responsibilities of the agency and the client company.
For example, some employers require that the contract expressly say that the staffing agency is solely responsible for workers' compensation claims filed by temporary workers placed through the agency.
The employer should also work with legal counsel to ensure the business has sufficient general liability coverage.
If a temporary employee is hired directly by the employer rather than through a staffing agency, then the employer might be responsible for providing workers' compensation. Likewise, seasonal employees who are on the employer's payroll might be entitled to workers' compensation under the employer's policy.
It's important to check state law for specifics and applicable exceptions.  
For example, under California law, employers must provide workers' compensation insurance for temporary workers unless exempt from this rule. If the temporary workers are placed through a staffing agency, then the employer and the staffing agency can share the responsibility of providing workers' compensation.
Due to the many gray areas surrounding workers' compensation as it relates to temporary employees, employers should defer to legal expertise.