Corporate training delivery has become significantly advanced over the years. One of the most notable transformations is digital learning, which allows employers to administer employee training quickly, conveniently and efficiently through an online platform.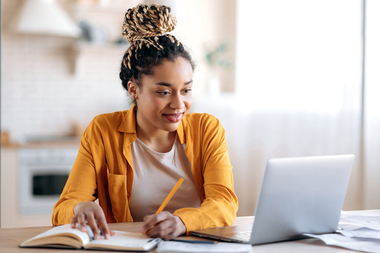 The types of training that employers provide have evolved as well. Formal training is an essential type of employee training, but it's also planned and structured. If employees need to acquire knowledge on the spot, just-in-time learning may be a viable solution.
What is just-in-time learning?
According to a Society for Human Resource Management article, just-in-time learning "allows workers to tap into useful nuggets of information when they need to learn in a short period of time or when they require clarification, guidance, tips or step-by-step instructions to solve problems and improve performance."
In other words, just-in-time learning is instant learning that is based on the moment of need. The rationale behind just-in-time learning is that employees often forget how to perform tasks when they received training way in advance of when they actually need to apply it. Just-in-time learning delivers an instant refresher, otherwise viewed as immediate access to new information for the tasks at hand.
As one expert states in a LinkedIn L&D report, it has been shown that "when employees are stuck, they need answers quickly. It doesn't help them to sign up for a class that will happen three weeks from now and sit through a four-hour session to get the answer they need this minute."
Origin of just-in-time 
Just-in-time (JIT) is a Japanese management philosophy that originated back in the 1970s. First developed at Toyota manufacturing plants, the just-in-time concept began as a method of fulfilling customer demands with minimum delays.
By producing inventory according to exact consumer requirements, the JIT process also reduced waste and clutter in factories and warehouses. Gradually, JIT made its way to corporate learning.
Real-world examples of just-in-time learning
An article published by SHRM has expressed the ways by which a global staffing firm called ManpowerGroup implemented the benefits of just-in-time learning. For starters, recruiters who worked for ManpowerGroup learned how to use the company's brand new applicant tracking system, or ATS, for which they took part in regularly scheduled training via e-learning courses.
Additionally, the recruiters were provided with access to something known as a digital adoption platform, or DAP for short. This made it possible for them to develop an understanding of just-in-time learning while becoming familiar with the new ATS.
Similarly, a global IT solutions firm called NIIT Technologies began utilizing a learning platform that functioned in alignment with the concept of just-in-time training. The platform was able to give employees access to a wide array of books, audiobooks, and online training courses, making it possible for them to immediately access information when they had questions.
Just in-time learning should complement, not replace
Just-in-time learning is not intended to be a replacement for formal training methods. Rather, it should be viewed as a tool that can complement formal training methods in all of the right ways. Also, just-in-time learning is not suitable for every single workplace. It's important to make sure this method will pair well with your work-related culture and environment.
It's often the most effective when implemented in scenarios in which employees often seek answers to procedural questions, like how to complete a certain task, as opposed to dynamics in which the questions yield far more nuanced answers. As long as the former represents your company or office, just-in-time learning is worth giving a try.