According to the job-posting service Glassdoor, "The average U.S. employer spends about $4,000 and 24 days to hire a new worker." This price point accounts for the costs associated with sourcing the job, performing background checks, completing prehire assessments, enacting referral rewards and affording recruitment technology, as well as paying the staff involved in the recruitment or onboarding process. And these tasks are only the beginning of all things pertaining to talent management.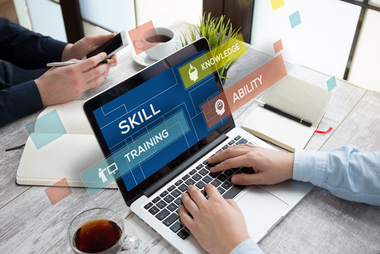 Interviewing applicants and selecting whom you will hire are large undertakings on their own, but after you hire the employees, you will need to onboard and train them as well as develop their skills and engage them in tasks on the job. These efforts can become expensive very quickly, as they are also time-consuming and complex, particularly if you are not making use of talent management software along the way.
For optimal results, talent management software should have the capacity to be used on mobile devices in today's modern world. But what should you look for in talent management software? Which high-level mobile features are best?
Before we dive into the world of mobile features, let's first explore talent management software more closely
Talent management systems can either be stand alone or integrated. For example, it's possible to have separate applications for various categories of the hiring process, such as recruiting, training and managing performance levels. While stand-alone software options exist, integrated talent management systems tend to be far more efficient.
That's because, with integrated software, all the features that are needed to attract, recruit, hire, onboard and engage employees can be found in the same software solution.
A modern integrated solution is one that supports the entire life cycle of hiring and onboarding employees, the stages of which are as follows:
Recruiting.
Managing job applications.
Managing candidates.
Hiring.
Onboarding.
Compensating management.
Training and developing new hires.
Managing performance.
Managing employee relationships.
Planning.
Offboarding.
Making use of mobile capabilities.
High-level mobile features for talent management
Mobile capabilities offered by talent management software will vary based on employer needs and the offers extended by software vendors. A study published in the International Journal for Innovative Research in Multidisciplinary Field provides a solid overview of high-level mobile capabilities for talent management as well as the engagement levels of each.
The following table was included in an article titled "Application of Mobile Technology for Talent Management," which was published in the International Journal for Innovative Research in Multidisciplinary Field in April 2017:
| | |
| --- | --- |
| High-Level Mobile Capabilities | Engagement Level |
| Candidates can browse, share and apply to open positions | High |
| Employees and hiring managers can communicate with each other | High |
| Hiring managers can track the status of job applications | Low |
| Administrators can view employees' work schedules | Low |
| Employees can request vacation time | Moderate |
| Employees can enroll in a training course | High |
| Administrators can manage training courses, learners and instructors | Low |
| Managers can track employee performance | High |
Per the study, "Mobile technology has had the most impact on recruitment, learning and performance management." Below are examples of activities that the study lists for the categories of recruitment, learning and performance.
1. Mobile recruitment activities that yield high levels of engagement:
Search for and process resumes.
Capture candidate information.
Schedule interviews.
2. Mobile learning activities that result in moderate levels of engagement, as the study only depicted activities that could result in moderate or low engagement levels for the category of learning:
Handle course approvals.
Check assignment calendars.
3. Mobile performance activities that create high levels of engagement:
Access and track employee performance.
Complete performance evaluations.
Review competency measures.
Deliver performance feedback.
Rate progress of competency development.
At the end of the day, the presence of or importance placed on mobile capabilities will fully depend on the employer and the company's needs. For instance, one employer could offer gamification activities in an effort to increase employee engagement levels, while another employer might deem gamification to be an unnecessary additional expense.
Ultimately, the features that are prioritized and subsequently offered will differ from one employer to the next. But despite the differences, one similarity among companies of all sizes, industries and goals is that mobile applications for talent management purposes play an integral role in HR departments.